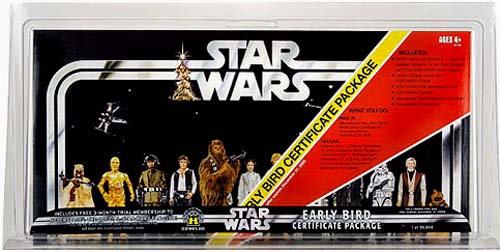 Star Wars Early Bird Mail-in Exclusive (2005)
This item celebrated the original 1977 release of the first mail-in figures from Star Wars. Initially, the figures were not ready for delivery in December 1977, so a special Early Bird Mail-in offer was produced. Buyers purchased a card board display stand with instructions on how to get the four exclusive mail-in figures.
This same concept was re-released in 2005, and used similar figures and designs based on the 1977 Early Bird Offer. This 2005 Early Bird Offer contains the complete set: The (4) Early Bird Exclusive mail-in figures: 1x Luke Skywalker with Telescoping Lightsaber, 1x Princess Leia with Blaster Riffle, 1x Chewbacca with 2 piece Crossbow Blaster, and 1x R2-D2 with Pop-up Scanner, all in original baggies on a white plastic tray. Also included is the color display stand, plastic tabs for figure placement on display stand, Star Wars membership card, Hyperspace trial membership certificate, early bird certificate card receipt, sticker sheet (4 vintage looking stickers), 2 carded/ perforated photos from Episode IV: A New Hope, and the Early Bird Storage Kit with the celebrated Kenner logo.
All figures have significant improvement in articulation (movable limbs/ parts) over their vintage counterparts. Nice figure detail and color. Out of every item offered in our store, this is the only item we rate as a, "must have" for all Star Wars collectors because of its historical significance. The original 1977 set is extremely hard to find and typically priced above what most people can afford to pay for such a rare collectable. This 2005 re-release can be purchased at a fraction of the cost of the vintage set. Purchase your Early Bird Set here while supplies last.